---
These volumes were hardback, with a colourful dust wrapper, and each contained on average 8 facsimiles of original Magnets, mainly from the 1920's and 1930's. Early volumes tended to select complete series of stories (usually from the 1930s), and avoided stories written by substitute authors. Later volumes had to include a variety of single stories, and those written by substitute authors. This was for three reasons: the Greyfriars Book Club volumes were gradually reprinting Magnets from the beginning (1908 onwards), earlier volumes had creamed off the best of the later series, and First World War Magnets were scarce.
The first volumes (published in 1969) sold for 2 guineas each (£2.50 when the UK went decimal). From number 5 the price increased to £2.75, from 27 to £3.20, from number 35 to £3.90 (and all prior volumes still in print increased to £3.50). From number 46 the price increased to £4.50, from number 70 to £4.95, from 74 to £5.95, from 78 to £6.95, from 80 to £7.95 and from 89 to £9.95. The last volume (100) sold for £12.95.
Some volumes were very popular with collectors and sold out very quickly. Volumes 5, 24 and 25 were reprinted in a new hardback edition of 100 copies with clear plastic dust wrapper [as volumes 4a, 24a and 25a]; as was volume 18 (a complete run of the "Stacey" series in volumes 16 and 17). Volume 5 was also repackaged as 14 single issue facsimiles in a Book Club style slip case. Volumes 19, 21, 22 and 23 were later reprinted in a limited edition paperback format (400 copies only at £15 a time).
* Limited edition paperback reprint (400 copies) + substitute author volume # limited edition hardback reprint (100 copies)
| | | | | |
| --- | --- | --- | --- | --- |
| No. | Title | | Issue numbers | Year |
| | | | | |
| 1 | Billy Bunter in the Land of the Pyramids | | 1277-1284 | 1932 |
| 2 | The Rebellion of Harry Wharton | | 1285-1296 | 1932 |
| 3 | Billy Bunter of Bunter Court | | 910-917 | 1925 |
| 4 | Billy Bunter and the Terror of the Form | | 1247-1254 | 1932 |
| 4a | Billy Bunter and the Courtfield Cracksman | # | 1138-1151 | 1929-1930 |
| 5 | Billy Bunter and the Courtfield Cracksman | | 1138-1151 | 1929-1930 |
| 6 | The Downfall of Harry Wharton | | 1255-1261, 1269 | 1932 |
| 7 | The Greyfriars' Pretender | | 1209-1219 | 1931 |
| 8 | The Mystery of Wharton Lodge | | 1349-1353, 1359 | 1933-1934 |
| 9 | The Schemer of the Remove | | 1404-1412 | 1935 |
| 10 | Billy Bunter and the Greyfriars' Mutiny | | 1043-1049 | 1928 |
| 11 | Six Boys in a Boat | | 1643-1650 | 1939 |
| 12 | The Greyfriars' Adventurers | | 1588-1599 | 1938 |
| 13 | Bunter the Ventriloquist | | 1159, 1187-1188, 1190, 1226, 1311, 1317, 1328 | 1930-1933 |
| 14 | My Lord Bunter | | 1457-1460, 1556-1559 | 1935, 1938 |
| 15 | Calling Mr Quelch | | 1600-1608 | 1938 |
| 16 | Harry Wharton's Enemy | | 1422-1427, 1469-1470 | 1935, 1936 |
| 17 | The Black Sheep of Greyfriars | | 1428-1433, 1479-1480 | 1935, 1936 |
| 18 | The Greyfriars' Double | # | 1422-1433 | 1935 |
| 19 | The Greyfriars' Hikers | * | 1331-1340 | 1933 |
| 20 | Alonzo the Great | | 1341-1342, 1344-1348 | 1933 |
| 21 | The Tyrant of Greyfriars | * | 1169-1174, 1227 | 1930-1931 |
| 22 | Billy Bunter's Christmas | * | 1191-1194, 1204, 1206 | 1930-1931 |
| 23 | The Joker of Greyfriars | * | 1078-1082, 1084-1086 | 1928 |
| 24 | The Kidnapped Schoolboys | | 1175-1177, 1354-1358 | 1930, 1934 |
| 24a | The Mysterious Mr Krantz | # | 1354-1358 | 1934 |
| 25 | Billy Bunter in China | | 1178-1185 | 1930 |
| 25a | Greyfriars' Chums in China | # | 1175-1185 | 1930 |
| 26 | A Bargain For Bunter | | 1652-1659 | 1939 |
| 27 | The Shadow Over Harry Wharton | | 1059-1067 | 1928 |
| 28 | Billy Bunter's Circus | | 1069-1076 | 1928 |
| 29 | The Mystery of the Moathouse | | 1660-1667 | 1939-1940 |
| 30 | The Burglar of Greyfriars | | 1668-1675 | 1940 |
| 31 | Billy Bunter's Hat Trick | | 1325-1327, 1456, 1531-1532, 1573-1574 | 1936, 1937, 1938 |
| 32 | The Greyfriars' Cowboys | | 1575-1582 | 1938 |
| 33 | The Sleuth of Greyfriars | | 1413-1417, 1419-1421 | 1935 |
| 34 | Bunter's Seaside Caper | | 1418, 1434-1439 | 1935 |
| 35 | The Sit-In Strike at Greyfriars | | 1510-1517 | 1937 |
| 36 | Bob Cherry's Big Bargain | | 1118-1125 | 1929 |
| 37 | Billy Bunter's Lucky Day | | 1518-1525 | 1937 |
| 38 | Bunter Tells the Truth | | 1440-1447 | 1936 |
| 39 | The Ghost of Polpelly | | 1448-1455 | 1936-1937 |
| 40 | Billy Bunter's Coronation Party | | 1526-1530, 1533-1535 | 1937 |
| 41 | Billy Bunter's Hair Raid | | 1676-1682 + Greyfriarsí Herald 2/3 and 2/6 | 1919, 1940 |
| 42 | The Greyfriars' Secret Society | | 1390-1397 | 1934 |
| 43 | The Dictator of Greyfriars | | 1398-1400, 1541-1544 | 1934, 1937 |
| 44 | Billy Bunter in Brazil | | 1461-1468 | 1936 |
| 45 | Gunmen at Greyfriars | | 1471-1478 | 1936 |
| 46 | The Popper Island Rebels | | 1374-1382 | 1934 |
| 47 | The Schoolboy Smuggler | | 1493-1497, 1499-1501 | 1936 |
| 48 | Billy Bunter's Christmas Party | | 1502-1509 | 1936-1937 |
| 49 | The Mystery Man of Greyfriars | | 1615-1622 | 1939 |
| 50 | Billy Bunter's Easter Trip | | 1623-1630 | 1939 |
| 51 | The Bounder's Rebellion | | 1360-1367 | 1934 |
| 52 | Bunter the Hypnotist | | 1368-1373, 1583-1584 | 1934, 1938 |
| 53 | Billy Bunter's Banknote | | 1262-1263, 1270-1275 | 1932 |
| 54 | Vernon-Smith's Rival | | 1631-1638 | 1939 |
| 55 | Bunter the Liontamer | | 1481-1484, 1639-1642 | 1936, 1939 |
| 56 | Bunter's Funny Turn | | 1485-1490, 1492, 1498 | 1936 |
| 57 | Expelled From Greyfriars | | 1536-1540, 1560, 1613-1614 | 1937, 1938, 1939 |
| 58 | Billy Bunter's Christmas Carol | | 1036-1037, 1264-1268, 1276 | 1927, 1932 |
| 59 | Bunter's Rich Relation | | 1561-1568 | 1938 |
| 60 | The Greyfriars' Impersonator | | 1160, 1308-1310, 1569-1572 | 1930, 1933, 1938 |
| 61 | The Schoolboy Tourists | | 1132, 1312-1316, 1319-1320 | 1929, 1933 |
| 62 | The Big Bang at Greyfriars | | 1545-1552 | 1938 |
| 63 | Bunter's Orders | | 1221-1223, 1321-1322, 1553-1555 | 1931, 1933, 1938 |
| 64 | Billionairing With Bunter | | 1042, 1383-1389 | 1928, 1934 |
| 65 | Greyfriars On Safari | | 1228-1236 | 1931 |
| 66 | Ructions at Greyfriars | | 1135, 1237-1243 | 1929, 1931 |
| 67 | Bunter at St. Jimís | | 569-572, 585 & Gems 571-574, 576, 578, 585 | 1919 |
| 68 | The Rogue of the Remove | | 1129-1131, 1154-1155, 1157-1158 | 1929, 1930 |
| 69 | The Bully of Greyfriars | | 1111-1117 | 1929 |
| 70 | Billy Bunter's Convict | | 834, 1035, 1039-1041, 1056-1057 | 1924, 1927, 1928 |
| 71 | The Greyfriars' Second Eleven | + | 918-922, 932-933 | 1925 |
| 72 | The Shylock of Greyfriars | | 1110, 1126-1128, 1133-1134, 1136 | 1929 |
| 73 | Under Bunter's Thumb | | 1015, 1050-1052, 1068, 1090, 1137 | 1927, 1928, 1929 |
| 74 | Billy Bunter's Prize | + | 974, 1006, 1014, 1054, 1058, 1091, 1108 | 1926, 1927, 1928, 1929 |
| 75 | The Greyfriars' Bounder | | 1007-1013 | 1927 |
| 76 | Billy Bunter's Blunder | + | 844, 938, 940, 1083, 1109, 1153, 1220 | 1924, 1926, 1928, 1929, 1930, 1931 |
| 77 | Harry Wharton's Feud | | 942, 945-948, 950-951 | 1926 |
| 78 | The Persecution of Billy Bunter | | 956-959, 971, 973, 1027 | 1926, 1927 |
| 79 | The Odd Fellows of Greyfriars | + | 993, 1030, 1053, 1055, 1077, 1152, 1189 | 1927, 1928, 1930 |
| 80 | Forever Bunter | | 897, 899-900, 906-909 | 1925 |
| 81 | The Greyfriars' Mysteries | + | 939, 944, 949, 952-955 | 1926 |
| 82 | Billy Bunter Expelled | | 760-761, 826, 874-877 | 1924, 1925, 1926 |
| 83 | The Greyfriars' Rivals | + | 898, 904, 935-936, 972, 980, 991 | 1925, 1926, 1927 |
| 84 | The Greyfriars' Actors | | 613-614, 660-664, 873, 937 | 1919, 1920, 1924, 1926 |
| 85 | Bunter's Postal Order Mystery | + | 890-892, 901-903, 905 | 1925 |
| 86 | Bowling Out Bunter | + | 840, 889, 894-895, 934, 941, 943 | 1924, 1925 |
| 87 | Bunter's Poor Relations | + | 832-833, 835-839 | 1924 |
| 88 | Billy Bunter's Wembley Party | + | 856-857, 861, 870-872, 878 | 1924 |
| 89 | The Iron Hand at Greyfriars | + | 842, 845, 847, 849-852 | 1924 |
| 90 | Wally Bunter at Greyfriars | | 573-583 | 1919 |
| 91 | The Greyfriars' Cup | + | 813, 815, 817-818, 824-825, 827 | 1923 |
| 92 | Napoleon of Greyfriars | | 534, 536-537, 539-543, 546-548 | 1918 |
| 93 | Bunter the Punter | | 551, 553-556, 558-561, 563, 568 | 1918 |
| 94 | Bunter's Barring Out | + | 800-805, 816 | 1923 |
| 95 | Detective Bunter | + | 780, 785-786, 788, 790-792 | 1923 |
| 96 | Mr Bunter - Form Master | + | 731-735, 741-742 | 1922 |
| 97 | Bunter's Lawsuit | + | 746-747, 754, 762, 767, 775, 777 | 1922 |
| 98 | The Society for Reforming Billy Bunter | + | 703, 710-714, 716-717 | 1921 |
| 99 | Billy Bunter - Film Star | + | 718-722, 724-725, 736, 740 | 1921, 1922 |
| 100 | Goodbye Greyfriars | | 439, 442, 446-447, 450, 452-453, 455 | 1916 |
---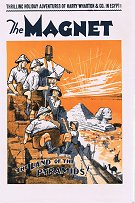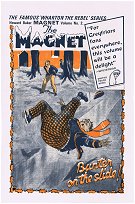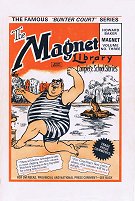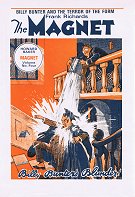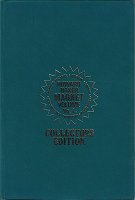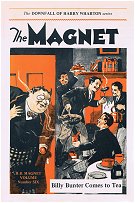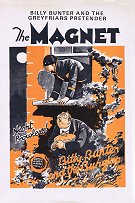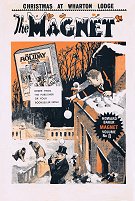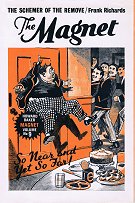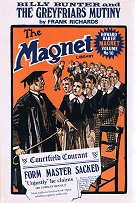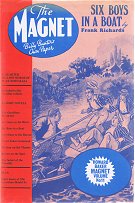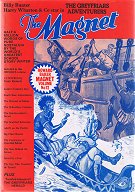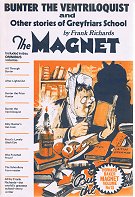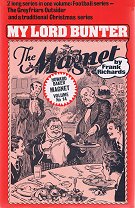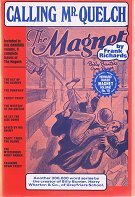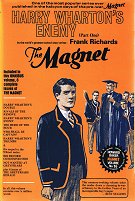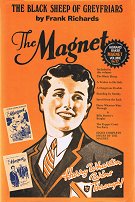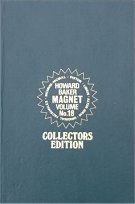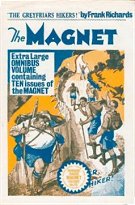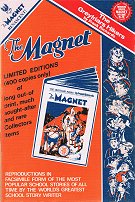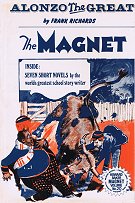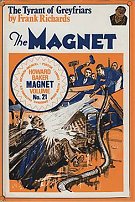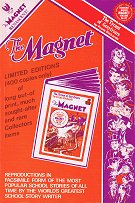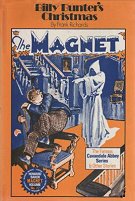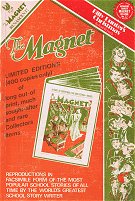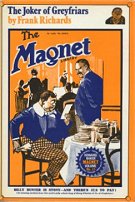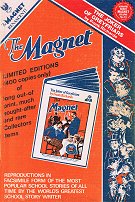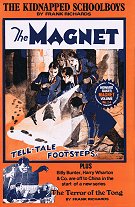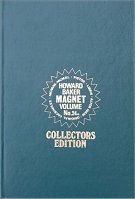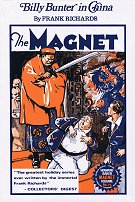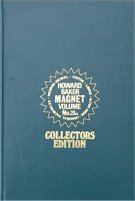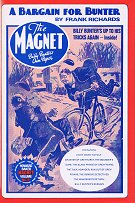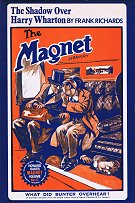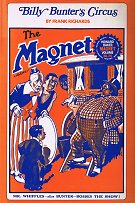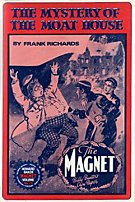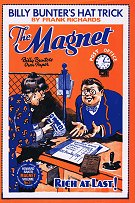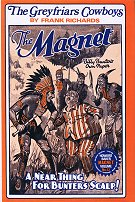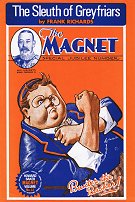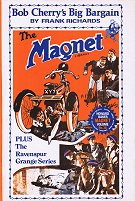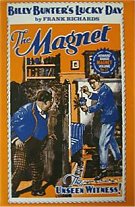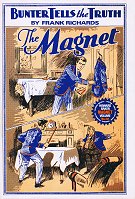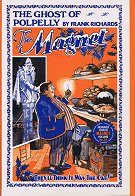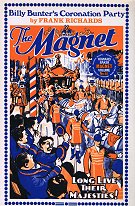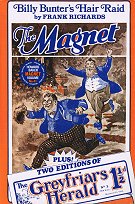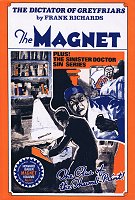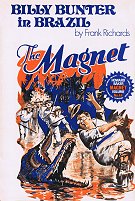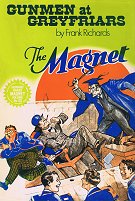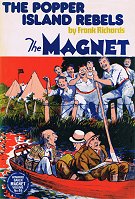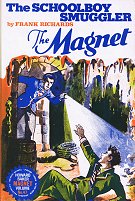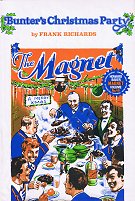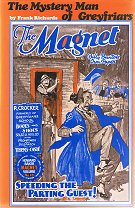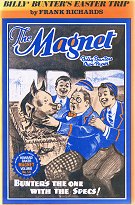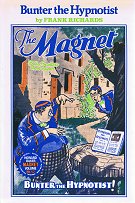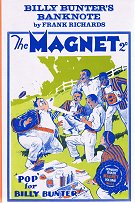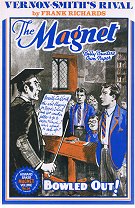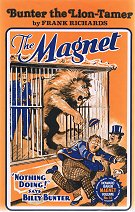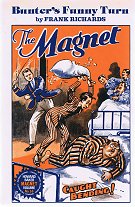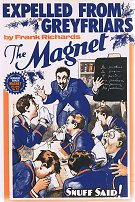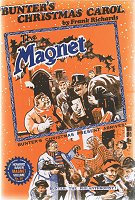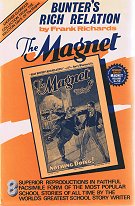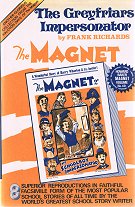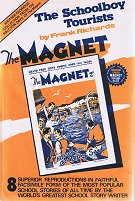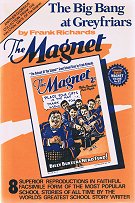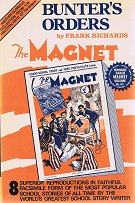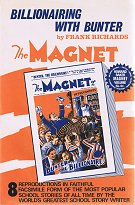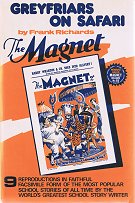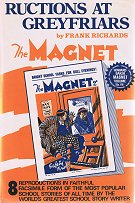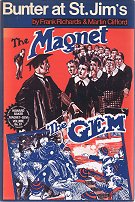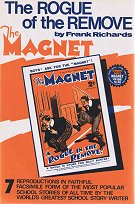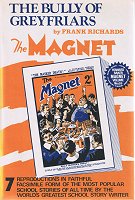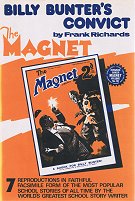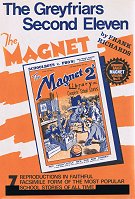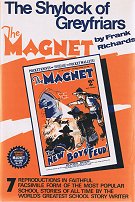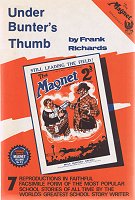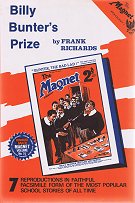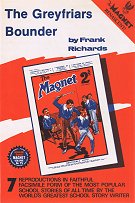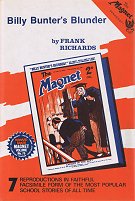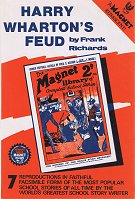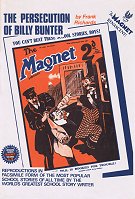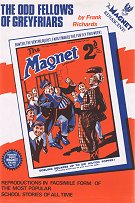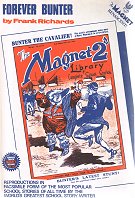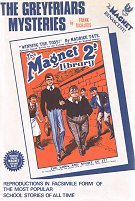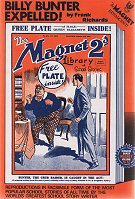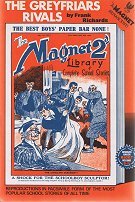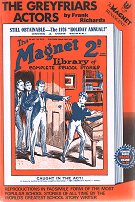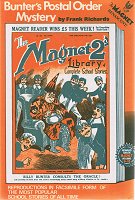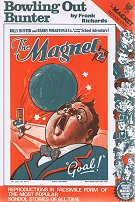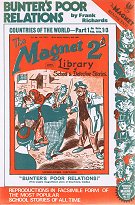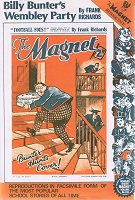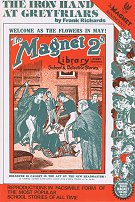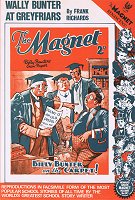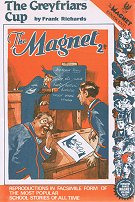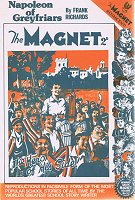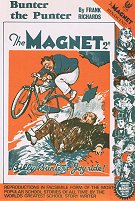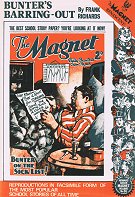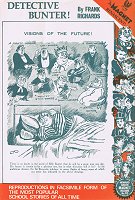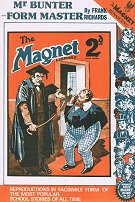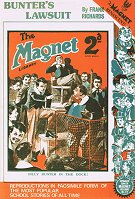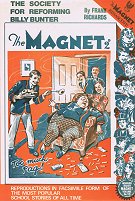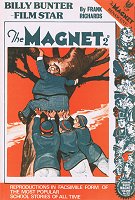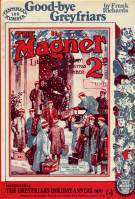 ---